Elk Grove Home Inspection & Building Inspector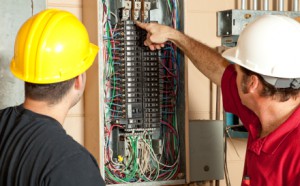 Whether you are planning to buy, build, sell or remodel a home in Elk Grove, investing in home inspections just makes good sense. The one system that is of greatest concern to Elk Grove home buyers and home owners is the electrical system.
We all want to keep ourselves and our families safe from harm. We will go to great lengths to make sure we protect the ones we love. Our Elk Grove Home Inspectors are certified electrical inspectors and take great interest in providing our clients with professional advice and assistance with ensuring their electrical systems are up to electrical code standards and do no pose as a safety hazard. At Super Home Inspections, we want you to feel safe and trust the electrical system in your home or office. Last thing you would want is an electrical fire or for the electrical to damage any electrical devices or appliances. Our Elk Grove electrical inspections are focused on getting the job done right the 1st time.
Elk Grove Residential Home Inspection
We Inspect every major system of your Elk Grove home to ensure that it is safe for your and your family. Do you know the condition of your Roofing, Exterior, Structure, Electrical, Heating, Cooling, Insulation, Plumbing, and the Interior? There is no such thing as a flawless home but with the help of Super Home Inspections we can get your Elk Grove home safe for your family for years to come. Protect one of your largest investments and call for a Elk Grove Inspection Professional today.
Elk Grove Building & Commercial Inspections
Having a Elk Grove Commercial Building Inspection will do nothing but good for your business and peace of mind. Having a Professional Inspection Team to examine your commercial building can possibly reduce your insurance rate for your commercial property. Ensuring the safety of your employees and clients is the most important job of a business owner. We can make sure your commercial property is within standards and will increase the longevity of your property.
If you are looking for a Elk Grove Home & Building Inspector then please call 1-877-374-6662 or complete our online request form.